Home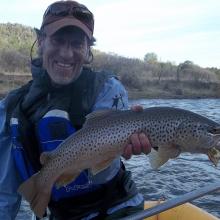 Job title:
San Juan Mountains Coordinator
About me:
A fourth generation Colorado native, I have spent a lifetime pursuing my passions in the Rocky Mountain west. Working to protect our trout/salmon fisheries and backcountry public lands is a dream come true and I can't imaging doing anything else. It's not work if you love it.
Favorite quote:
Just because you are a character, doesn't mean you have character.
Other Interests:
backpacking
Camping
hockey
Skiing
mountain biking
Rock Climbing
Group membership:
Colorado TU
Sportsmen for Hermosa